Membership Renewal Time
Download and fill out the membership form and bring it with you to the Movie Night Jan 29th at Keith Blais Save the Rust Museum.
__________________________
Did anyone buy a Suzuki from Zellers?
___________________________
An AJS V4 Story
This V4 engine was cast and machined from scratch.
Click on the pic for the link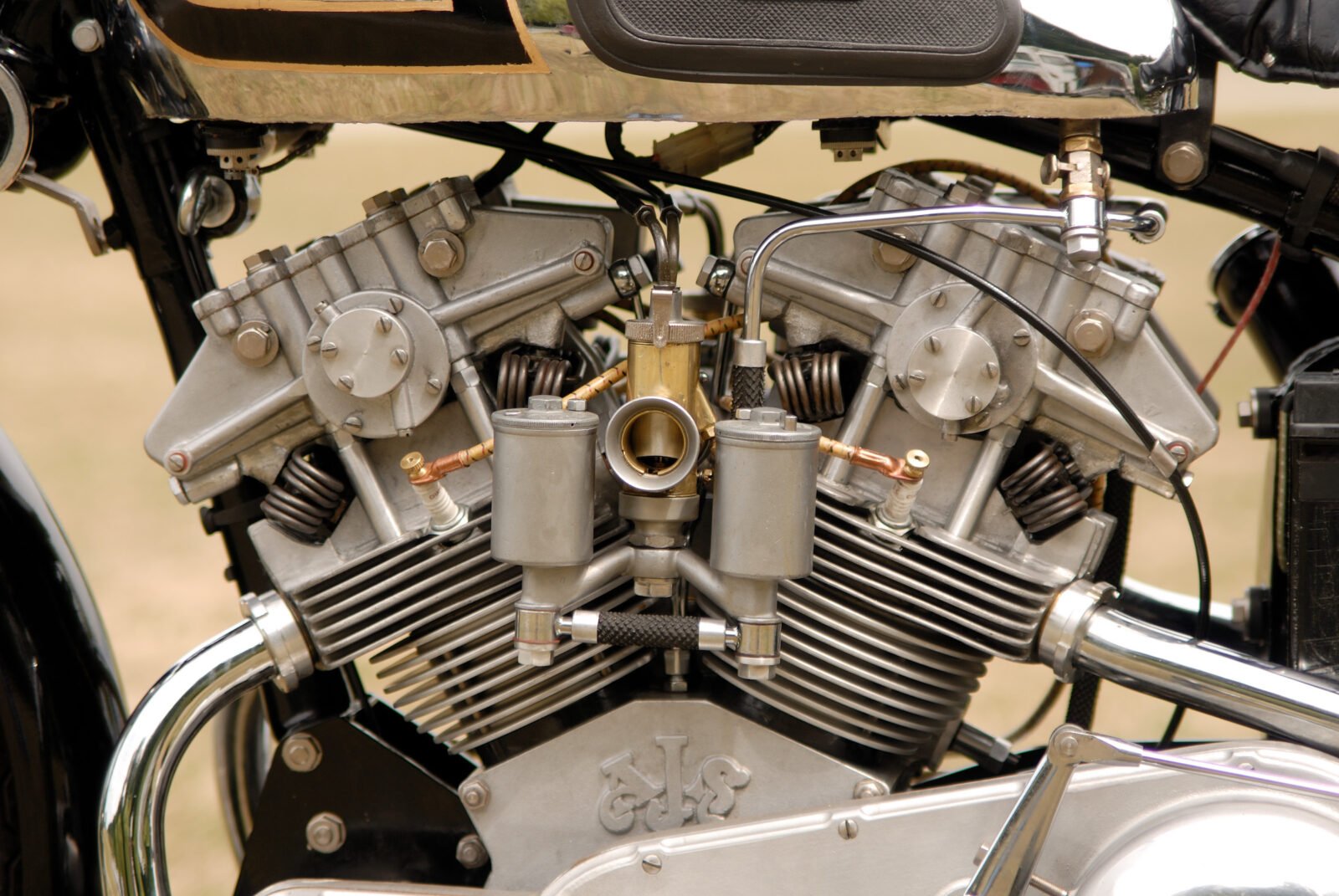 ______________________
Election Results
Welcome 2 new faces to the AMCM executive…
President: Barry Fudge Vice President: Ken Charleton
________________________
______________________
_____________________
Antique Harley sets record at Bonneville Speedway!
Last year (2017) we set a record of 124 mph in 1650cc class with our 1942 1360cc Harley big twin flathead model U (yes, we are giving up a lot of cubic inches by being in this class). It was set in fuel class, but in reality we were running 85 octane pump gas… when you bring your own carboy of gas, you are automatically placed in "Fuel" class.
We wanted to use low octane because a low compression flathead (6:1) doesn't work as well with the slower-burning properties of the 100 octane gasoline supplied at the race meet. Last year, the track was in horrible condition (many riders who normally run 120 to 140 mph were bailing out at 100 due to the pot-holes and ruts in the "measured mile" portion of the track). In spite of this, Ted had several one-way runs of 127.

This year, we installed a nitrous kit on the bike. The track was in excellent condition, but because of the abnormally cool weather (68-70 degrees F.) we immediately had problems with our nitrous feed.
On the runs where it worked (at best, sporadically) we topped 132 mph, and on the runs where it didn't work at all we did about 126.
_________________
2018 "Fishing Trip" a great day for a ride and eating fish dinner … not so good for those who wanted to buy fresh fish to take home as it was opening day for commercial fishing so there was none for sale yet. Funds were raised for the local Spina Bifida cause through pledges and donations.
___________________
Rob and Keith went on a bike trip east and share some pics of the trip…
____________________

David Pritchard picked up the Best of Show Award at International Norton Owners Association 2018 July Rally in Elma, WA. recently with his 1928 CS1
See a video presentation on the restoration of this bike here:

_______________________
The 2018 Burt Bentley Trophy winner (best restored by a club member) Tony Medernach's 1911 Harley Davidson single

_______________________


["slideshow"id 42]
_______________________
Our

AMCM

ambassador for India, Ross Metcalfe reports…
As you know, I spent 15 days in India a couple weeks ago.
There are literally of millions of motorcycles on the roads.
Most of them of the 125cc variety with every second motorcycle a Honda Hero.
As many of our members know, Royal Enfield began in England in the 1890s, and the last one sold in Canada in 1970.
But in India, they continue to make the 500cc Bullet which, in that country, is a very large motorcycle.
Even though they are made in India, the Royal Enfield is rare as they are expensive compared to the small bore bikes.
I just happened upon the local Royal Enfield club in Delhi as our tour made a lunch stop at a roadside restaurant.
In the parking lot, there were 40 or 50 bikers all wearing red t-shirts.
They told me that on April 8th (that day), every Royal Enfield club in the world was out for a ride titled "One Ride Around the World".
You would have thought it was our corn roast as they were having a blast playing games such as Slo Races.
My last comment would be, Royal Enfield is the only motorcycle company that can boast having spanned three centuries.
_________________
These members were hands on in the rescue and restoration of the Dunlop Trophy
that hung in the MMC clubhouse that was destroyed by fire, Great job guys.
The Restored plaque which was first awarded to a MMC member in 1911 will hang in the meeting room at Harley Davidson of Wpg.
_______________
RainMan action figures on sale now.
________________
For older posts see Web Archives 1 and 2
________________
AJS, Ariel, BSA, BMW, Brough, Cam-Am, Ducati, Harley, Honda, Indian, Francis-Barnett, James, Kawasaki, New Hudson, Norton, Matchless, Moto-Guzzi, Royal Enfield, Suzuki, Triumph, Velocette, Villiars, Vincent, Yamaha, Manitoba Motorcycle Club, MMC, amcm, motorcycle, antique, ducati, bmw, moto guzzi, brough, scooter, motorbike, Villiers, harley davidson, vintage, hodaka, benelli, bridgestone, bultaco, honda cb, montessa, sears, zundapp, whizzer, simplex, cycle, mustang, cushman, allstate, twingle, puch, aermacchi, dkw, nsu, jawa, cz, vespa, lambretta, motobi, ossa, silver pigeon, miyata, yamaguchi, pionter, fuji rabbit, tohatsu, marusho, ace 100, super rat, combat wombat, dirt squrit, road toad, vintage, classic, henderson, crocker, curtiss, excelsior henderson, iver johnson, hrd, sunbeam, husqvarna, mitsubishi, laverda, mz, maico, nimbus, rokon, yard marvel mountaineer, Cleveland, scott, mv agusta, aprilla, sachs, hill climb, motocross, scramble, tt, tourist trophy, lemans, flat track, dirt track, enduro, drag, nitro, nitrous,