I went to Winnipeg in 1992 to visit my 81-year-old father, who'd ridden and raced Indian motorcycles on and off for 56 years. He rode his 1936 Sport Scout every day, everywhere — the man knew how to ride.
Dad was the secretary for the Manitoba Antique Motorcycle Club. At a meeting not long before my visit, members of the club told him you were required to have a motorcycle-specific license to operate a bike. Dad disagreed. "No, all you need is a driver's license." That law changed in 1963, they said. A grandfather clause had been established so those who were already riding could get their motorcycle license by filling out a form — no road test required. But the expiry date to fill out the form was the end of 1964. Dad had missed the cutoff by 28 years. I arrived in Winnipeg on a Sunday night and asked what was on the agenda. "I'm going to get my motorcycle license," he said.
We headed down to the motor vehicle department on Monday afternoon. Dad hopped onto his Indian and told me to follow him in the station wagon. Downtown traffic was heavy and I had a hard time keeping up. He had fought as a fighter pilot in World War II, flying Spitfires and Thunderbolts; he knew what speed was. I arrived — long after him — and parked beside the Indian. A youthful driver examiner came over. "That's a beautiful motorcycle. Is it yours?" "No, it's my Dad's. He's inside getting his motorcycle license." We chatted for a while, and then I saw Dad emerging from the office. I looked at his face and laughed as I said, "You didn't get it, did you?" "Those bastards don't know anything," he said. "Who do they think they are, giving a motorcycle test when they don't know anything about motorcycles?"
Dad disliked Harleys, probably going back to the '30s and '40s when he raced against them. He once said to me, "The only parts of a Harley that are any good are the pistons — they make good shifter knobs for Indians." (He actually melted down a Harley piston to make a gearshift knob for his 1919 Indian Powerplus.) One of the main differences between old Indians and Harleys is the location of the throttle; a Harley's throttle is on the right and an Indian's is on the left.
I asked Dad what happened at the motor vehicle office. "He asked me to show him how you signal for a left turn, a right turn, and for stopping. I showed him, and then he said that I was almost right, but that I used the wrong hand to signal. That's when I told him that I rode an Indian — and not a damn Harley — and you can't take your hand off the throttle to signal. I also told him he shouldn't be giving anyone a motorcycle exam."
The examiner who'd come over to admire the bike was still standing next to me. Overhearing all of this, he looked at me. "Do you have a motorcycle license?" I nodded. "You'll have to ride the bike home," he said. "Your dad doesn't have a license." "Good luck telling him that," I said. The examiner walked over to Dad while he was preparing to fire up the bike, put his hand on Dad's shoulder, and broke the bad news. Dad turned his head and looked at him, but I didn't hear what Dad said. The examiner straightened, then slowly backed away. Dad fired up the Indian with one kick and left in a cloud of dust.
I went into the office and got the motorcycle handbook. I convinced Dad to read it so he could answer the questions on the test. A week later, after I'd gone home, I phoned and asked if he'd passed the written test. Yes, he said. I asked if he took the road test. Yes, he said. And then I asked how it went.
"They drive behind you in a car, and when they want you to turn, they put their turn signal on," he said. "But the guy had a hard time keeping up with me. I think he signaled left. But my mirrors shake a lot. I turned right and went home and had a cold beer."
Dad never got his license but kept riding his 1936 Indian until he had a stroke in 1997. He died two years later. I'll never forget that day in the parking lot. That examiner likely won't, either.
Irv's early Motorcycle and WW2 days
Dad and Ken Butterfield rode their bikes from Winnipeg through the states to Mexico and across to Los Angeles (stayed there a while) and back to Winnipeg. They left Dec 7th, 1934 returning on March 3rd,1935.  
He rode his bike solo to the World's Fairs in Chicago and New York (will check and see if I can unravel the years).
In January 1937 he traveled to Daytona Florida for the first Daytona 200 motorcycle race, Sunday January 24th 3250 Km. There were several other riders from Winnipeg there. He got back to Winnipeg a week before getting married Feb 13th, 1937. The average January temp in Winnipeg for 1937 was -25c.
He was also at the 1938 Daytona. Apparently by himself.
During the Second World War, Irv enlisted in the Air force on the 21st of  Dec 1940 (J7449) in Winnipeg, Manitoba. He took Initial Training School in Regina, SK and graduated the 26th of April 1941. Elementary Flying Training School was at Portage La Prairie, MB. His Service Flying Training School was in Yorkton, SK. There he received his wings and commission on the 11th of Sept. 1941. He left for England on the 4th of Oct 1941 and was assigned to the Royal Air force Training Command as a flying instructor. On the 13th of Sep 1943 he was promoted to Flying Officer and joined the Royal Air Force's 134 Squadron near Cairo, Egypt, as a fighter pilot. The 134 provided defense for patrols along the North African coast.
With Hurricane fighter planes they helped push the German army and Field Marshall Rommel along the North Africa coast and out at Tunisia. During the summer of 1943 while on patrol over the Island of Crete, Irv was shot by a sniper on the ground. Luckily he was looking out the side window (he said to me) as the bullet went through this thigh and out through the top of the canopy of his airplane.
He managed to control the bleeding and return to the airbase. After a few days in the hospital, he was back with the Squadron. On November 14th, 1943 the Squadron moved to India and flew its aircraft to the Burmese frontier area.
Dad told me, "We flew our Hurricanes as a squadron to Burma. I read a Readers Digest cover to cover flying formation on that trip."
Ground attack missions against Japanese positions in Burma were carried out with P-47 Thunderbolt fighters." We gave the Japs a rough time with our 20mm cannons." Irv.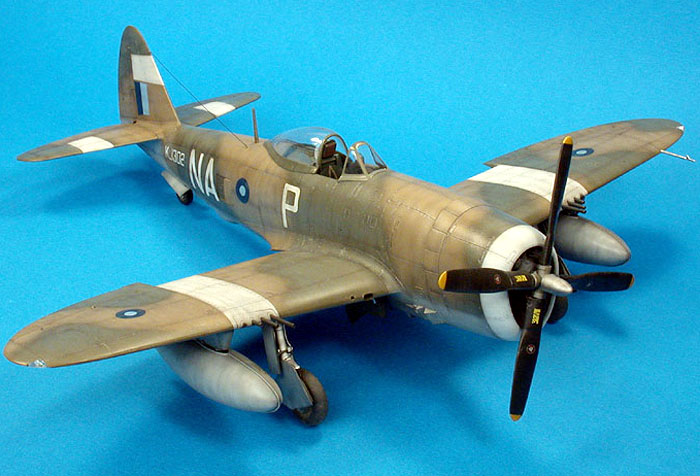 "After the Monsoon, we came back with P47's. They then hung a 250 lb. bomb on each wing and instructions "How to Bomb"  – (written by a Spitfire pilot I think). However, we developed our own system. Approached target at over 8 thousand feet, closed throttle, pulled up sharply. Did a stall turn, prop in fine pitch – dropped the eggs as soon as lined up in the vertical dive and then pulled out. With practice, it was very accurate and only a short blackout." Irv.
Promoted Flight Lieutenant, 13 September 1943 Irvin Lawrence Lowen was awarded the Mentioned in Despatches [a military award for gallantry or otherwise commendable service] and published in the London Gazette 14th Jan. 1944. Repatriated 12 April 1945. To No.2 Air Command, 22 May 1945. To No.5 Release Centre, Winnipeg, 6th August 1945. Retired 5 September 1945.
Aircraft                                         Period of Service
Hurricane 11B & 11C                Jan 1943–Aug 1944
Spitfire VB &VC                        Jun 1943-Aug 1943
Thunderbolt P47                       Aug 1944- Jun 1945